Swanicoco Antidust Cleansing Foam 10ml
โฟมทำความสะอาดหน้ากลิ่นผลไม้ แบบ 2 อิน 1 ที่มีกลิ่นหอมของผลไม้ในเนื้อครีม
มีเม็ดบีดส์ช่วยทำความสะอาดพร้อมกับผลัดเซลล์ผิวอย่างอ่อนโยน
ประกอบด้วยสครับขัดผิวหน้าด้วยผงถั่วแดงธรรมชาติ และ AHA ที่ผลัดเซลล์ผิวอย่างอ่อนโยน
ทำความสะอาดล้ำลึก ผสมด้วย Sorghum Bicolor Leaf/Stem Extract, Aspergillus Ferment และ 7 Blue Complex เพื่อปกป้องและปลอบประโลมผิว
ทำความสะอาดผิวได้อย่างมีประสิทธิภาพด้วยโฟมเข้มข้นโดยไม่ลอกผิว
ดูแลผิวแพ้ง่ายด้วยการทดสอบความปลอดภัยเสร็จสิ้น

วิธีใช้:

1. ล้างหน้าให้เปียก ใช้ผลิตภัณฑ์ในปริมาณที่พอเหมาะแล้วล้างออก

2. นวดผิวเบา ๆ แล้วล้างออกด้วยน้ำอุ่น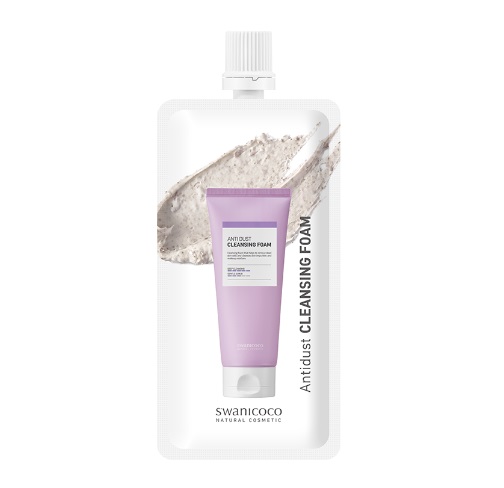 Benefits:


A daily, fruity floral-scented, 2-in-1 cleansing foam in a creamy texture with beads that cleanses while gently exfoliate the skin, leaving clean skin from inside to outside.

Contains natural Red Bean Powder face scrub and gentle exfoliant PHA to soak up sebum deep from pores and remove impurities on the skin epidermis.

Formulated with Sorghum Bicolor Leaf/Stem Extract, Aspergillus Ferment and 7 Blue Complex to protect and soothe the skin.

Effectively cleanses the skin with rich foam without stripping the skin.

Hypoallergenic skin care with safety testing completed.


How to use:

1. Wet the face, take a moderate amount of product and lather up.

2. Gently massage the skin and rinse off with lukewarm water.